High Country Farm Tour - Gift Card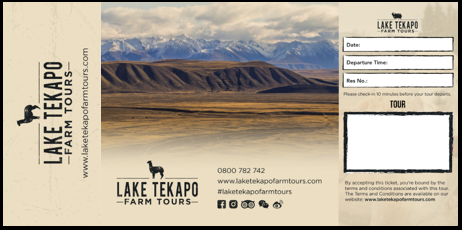 Location: Lake Tekapo, Mackenzie District
Product code: LTFT-GC
Give someone that special gift of experiencing an off-road high country farm tour that's like no other!
Our 2-hour high country guided farm tour takes you on an exciting adventure filled with epic landscapes, once-in-a-lifetime opportunities, a variety of farmyard animals and the chance to explore remote areas on this vast 25,000 acre property located just outside of Tekapo.

The photo opportunities are abundant, whether you're an animal or landscape lover. We're warning you now; do not forget your camera!
Who says you can't go off-road in style? Our comfortable 12-seater 4WD Mercedes Sprinter van is equipped to journey on the smooth and bumpy roads. The windows are plenty big so everyone has views of the stunning scenery on the drive out to our favourite spots. Our tours are capped at 11 people so you can enjoy the best of both worlds; small numbers and big scenes!
Jump on board and listen to your guide detail the history of Tekapo while you head towards your first stop, historic Mt John station. Spot some of the farm residents along the way, consisting of 5,500 Merino sheep, 240 Angus cows, 100 Red deer, 30 alpacas, 25 horses and 15 working dogs!
Discover the story behind Irishman Creek Hut and learn about the forestry and football-sized pine-cones. Take in the majestic mountain views while heading to your next stop, the picturesque Swan Tarn, an alpine gem with the Southern Alps and Aoraki Mt Cook as its backdrop. Grab some binoculars and see if you can spot the endangered Black Stilt bird that has made this beautiful tarn its home.
Sample some pure New Zealand honey produced on the farm then head on over to Forks Stream where you'll get the once in a lifetime opportunity to experience fresh spring water straight from the source. While here, you'll learn all about the native flora and fauna and what it is used for.
Pass by the horse ranch and say hello to the famous horses who recently starred in the new Disney adaptation of Mulan before heading towards Mt John lookout which is possibly one of the most breathtaking stops on this epic journey. Enjoy your private location on this mountain where you'll not only learn all about the lake that put Tekapo on the map, but also get the chance to have some fun, get into the spirit and dress like a farmer for a hilarious photo opportunity.
Head back to the office where your last stop will be to get up close and personal with some of the friendly farm animals. Meet Whiskey the Pig, the new lambs and the other farmyard favourites, like our alpacas. We'll provide the treats, you just need to provide the hands!
By the end of this tour you'll have a cache of amazing pictures, feel educated on ... and have made some new furry friends. This is a tour the whole family will love!